what does a filter drier do
Views:11 Author:Site Editor Publish Time: 2018-02-28 Origin:Site
Filter drier for visi cooler can be used to absorb moisture, prevent acids, and can be used to optimize physical filtration, an important part of the air conditioning and refrigeration systems we use.
Filter dryers can be used in refrigerators, freezers, air conditioning and compressor units, condenser units, where we can print text and we can also set a stop point, either at the outlet or at any one.we have different sizes of filter dryers for you to choose from.
The universal filter dryer can be used to absorb residual moisture in the system and to filter impurities and foreign matter in the system to avoid "ice jam" and "dunghill jam" of the system as this will result in damage to the refrigeration system , It is necessary for us to remove the moisture from the system or it may freeze in the tube resulting in a limited flow of refrigerant which can lead to the formation of acids and sludge when in contact with the oil in the system.when the filter dryer appears micro-blockage, the case of all plugged, it is in the refrigeration cycle outdoor condenser will not have hot air discharge, the indoor air outlet will become normal temperature.In order to avoid this loss, we should always check and regularly maintain the freezer copper filter drier, which is a combination of filter and dryer or dryer, sometimes it is also called a dehydrator or dryer.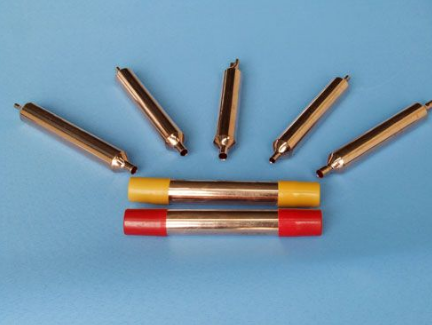 Finally, we need to introduce the refrigeration copper cryer filter made by JINAN RETEK INDUSTRIES INC. It can be used for R12, R134a, R502, R600 and refrigerator, using capillary for throttling, freezing and small and medium closed refrigeration System, we provide you customized services, you are welcome to consult.